What our customers are saying......

2019-06-05

Hello
The curtains were great!
Would have to order 4 additional lengths exactly the same as these.
Sincerely
Anette
2018-08-30




Hello!




Just have to tell you I'm incredibly pleased, it looks so good!




Thanks again for everything.





Have a nice evening.


/ Maggan








2018-08-31 
The curtains came today and they are absolutely lovely !!
How fast everything went!
With kind regards, Jenny

2018-08-02
New photos from Instagram customer; castelnueovobelbo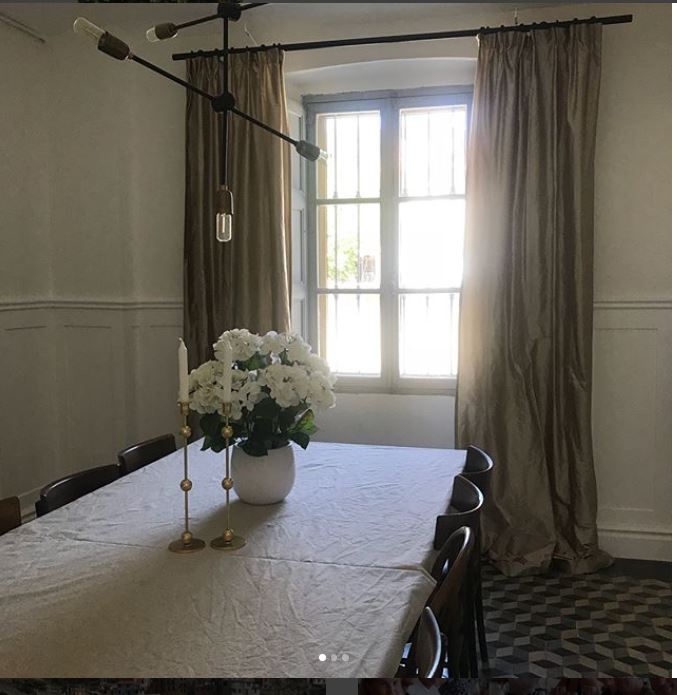 2018-06-29
Hey!
Now it's the third time I want to order curtains of you, I am super pleased!
I would like a quote on:
3 curtain lengths with the champagne shantung silk fabric.
Length of curtains 214 cm
Pencil Pleat Band
Extra luxurious cotton lining
With kind regards
Liz


2018-04-03


Instagram customer who decorates her house in Italy.




2018-02-03 A satisfied customer sent some pictures to show the finished result. 
The order was ten lined curtain lengths of our dark red dupion silk. Amazingly beautiful!


 




2017-11-28
Hello!
Thank you for the curtains. They are fabulous! Very nice silk!

Best regards, Teresa





2017-07-24





Hello, 




Thank you so much for a nice curtains Yes, we are very pleased. 




It became a completely different room, feels much more cozy and inviting.




Regards,


Emma


Hello, I was very pleased with the curtains from you.
I would like to order one more curtain with the same fabric, color and measurements.
 Sincerely Veronica

2017-07-14 (an order of embroidered bed linen)
 Hello, 

The package has arrived and everything looks great! Great thanks! 
I wish you a nice summer, 
Marie


2017-05-29
 Hi Louise! Great thanks for your generosity! 
I will deposit money today.
 Thanks for the help.
 Looking forward to the pillowcases!

Best regards
Lena



Three years ago I ordered fabric and curtains through you.
 Such a nice work that makes me / us happy every day.

Sincerely,
Pernilla


Hello,

I'm very pleased with my nice velvet curtains that arrived today.
Quick service and nice treatment!

Sincerely

Anna


2017-01-06

Hello!
 Just want to thank you for the amazing nice curtains !!! 
It was absolutely perfect!

Greetings

Lis-Marie


2016-12-18

Hi, 
just wanted to tell you I'm very happy with the curtains!
Sincerely,
Nina
 2016-12-10 
Hi Louise! 
I just wanted to tell you that we have now 
hung the curtains and they became top-notch, both shape and color! 
We are very pleased.
 Johnny


Hello,
I want to thank you for the beautiful silk curtains that came yesterday. 
Was really happily surprised! 
You can be sure that I will return as a customer.
All the best!
Lindah


2016-06-15

Hello

Thank you for your great service!

With kind regards

Stein


2016-04-23 
Hi Louise! The curtains have come and I have just hung them up - 
I'm very happy! 
Many thanks! 
Eva


2016-02-24

Sorry for my late reply, but have been crazy cold.

I just wanted to thank you so much for the excellent and fast service, 
the curtains are EXACT as I imagined and my living room is so beautiful
 thanks to this quality work.

Thank you very much, I'm looking forward to returning!

Sincerely,
Maria

2016-02-02
 Hello
It was really nice with our new curtains!
I found you when I googlade on curtains, sewing 

Sincerely Gunilla


2015-11-24

Hey!
Thank you for the nice curtains in dupioni silk.
I need to order two more lengths
Twolined lengths in white Dupioni silk,length 2,785 m.

Greetings Catarina


2015-08-31

Hello, Thanks for the beautiful curtains, perfect sewn, however, 
maybe the color should be called offwhite rather beige-I would probably say.

The quality of the pillowcase "cHATERINE! is really nice so now 
I finally decided to take this instead of the satin!

I return the pillowcase so you can do the embroidery. Thanks in advance.

Best regards

Lotta H.

2015-04-15
Hey !
 Many thanks for the nice curtains. 
It may be  that we will have more nice curtains, etc.
Then I will return. 
I am very curious about the new fabrics you get in.
The payment is made today. Thanks for now! 
I will try to take some pictures of the result when I get time. 

Best regards,
Pia 

2015-01-08

Hi Maud,

I Would thank for the very nice curtains. 
It was good idea that we made them longer then first decided.
Thank you so much for the nice packaging as well as the fast delivery.
Sincerely, 
Emma

2015-02-06 

Hello!,
Look how good it looks!
I'm so pleased. I hung up a painting that matches too.
Best regards,¨
Linda



  2014-12-02

(A picture from a satisfied customer who ordered the greige shantung 
silk curtains from our workshop )


 
The curtains ara amazing, thank you so much!
Mara Z

November 7, 2014
 Hello, Now the curtains are in place and I am very pleased !! 
Will definitely recommend you to friends and colleagues. 
Thanks and greetings, 
Lena


2014.10-15

Just have made the bed with the new sheets, sooo nice!
Greetings 
Catharina
Hi Maud!
The dress was ready just in time and very admired!
Thank you for your excellent service, warmly recommend you if anyone asks!
If you want to use the attached picture for some kind of promotion on the website, it is obviously okay!
The fabric was perfect to sew the  dress and is well suited for both the sewing of 
clothing and for curtain fabric, I would say if someone asks.
 
My best regards,
 Maja
 
 


 2014-08-10

Dear Louise,

Great thanks for the lovely curtains! I am very pleased.
Best regards,
Kerstin T.


June 9, 2014
Hello!
The curtains have arrived and. So nice! I am very pleased with the 
performance and service.
Great thanks!

Pernilla V

 
March 25, 2014 

Hello! I have bought a lot of the sheets from you with 
our heraldic weapon embroidered. We are more than satisfied and like these
 sheets a lot  That's why I thought I'd order a bit more of the 
same but it would be good if you could update me what I ordered? I want 
the embroidery with gold. I have a friend who marries and I was going
and I want monogram embroidery sheets to this couple who have everything
 Sincerely Ewa



 



January 6 2014

Hello!
Last autumn I bought silk curtains that I'm so pleased with. Would now like to have
silk curtains in another room with yellow tone. We would be grateful for you
would send fabric samples on sand, champagne, yellow and gold.
Mvh Christina

November 8 
Now the curtains are in place, they just look beutiful and we are
very satisfied - so who knows when we order curtains next
Per



Hey!
Today I have picked up these incredibly beautiful curtains. Very pleased,
but I will not hang them until the windows are cleanded.
 What do you recommend ? Should they be lying or hanging for example on a hanger?

Kind regards/ Gunnel



Thanks so much. The package came at 8 o'clock when I fetched the mail.
 J Thank you very much for the nice soaps !! 
The curtains is awesome !!! Thank you for the help // Catharina


Hey ! Great thanks  for the curtains,
 they arrived on Monday and is now in place.
They are really n really nice!  I wish you a nice weekend!
 Karolin


2014-03-14
At last I have hung up the silk curtains in front of the patio doors. 
I'm really happy with the curtains and love how the they falls in abundance 
on the floor. After looking for a long time, I had to order them from almahouse.se, 
which I can recommend.
Tina K.
PS. I attached a picture.




It took some time for me to get the curtains up, 
but now they are in place. It looks really nice and I'm very pleased! 
Have not decided yet if I'm going to have a tie-backs or not, 
but happy we made them extra long.
 Now two rooms remain, with a total of three windows. 
Have you the new  silk fabrics arrived yet? My best regards, Tina


Hi Louise,
I have got my curtains and they are amazingly nice, I am more than
satisfied. If you like, I can send you a photo with them in place.

Best regards
Eva