Silk has certainly set the standard in luxury for many years. It is one of the softest fabrics in the world and its origins date back to Ancient China.
The Chinese used silk fabric for decoration, clothing & arts. It was an important part of the economy by means of exchange for trading. The Chinese were very protective of their secret to making silk which of course is produced by tiny creatures called silkworms.
Today China still leads the way in silk production, in fact it produces around 74% of the world's supply of raw silk.
Silk is still highly valued because it not only looks lustrous and feels luxurious, but it is resilient, lightweight and extremely strong. In fact one filament of silk is stronger than a comparable filament of steel!
There is something magical about this fabric. No doubt, silk is the fabric that best can highlight a color. It makes a color intensive and sparkling.
We have two types of dupion silk, both of which are natural and have a slightly shimmering surface.

Indian dupion has some roughness in the web which is because two silkworms have spun their cocoons so close each other that two double cocoons (dupion cocoons) have occurred.
The lively surface structure makes the fabric suitable for home decor.
The other type is the Chinese dupion also called Shantung. It has a smoother surface because the "knots" has been removed and is therefore it is slightly more expensive. The fabric becomes elegant curtains and is also often used for bride and party dresses The fabric is produced in India but the raw material itself comes from China.
Width: 137 cm Weight approx: 154 grams / meter
We recommend dry cleaning for all our silk products.
If washed in water it is likely to shrink and become soft. Silk has many excellent qualities but can be sensitive to sunlight. In case of stronger colors, we recommend that you line your curtains, see Curtain making.
The best way to handle silk curtains is to vacuum them regularly to avoid dust formation. It suffice if you dry clean every 3 to 5 years. If you live in a heavy traffic neighbourhood, dry cleaning may be a bit more frequent.
Velvet

Velvet is a soft and warm fabric that gives a cozy feel to a room. The technique of weaving velvet is more than 800 years old and it was probably the Italians who started with this weaving technique.

Velvet is characterized by a dense and short pile that provides a durable fabric which through the centuries has been used to dress both people and furniture. Our velvet is made of 100% cotton and has a dense and soft fabric with heavy weight and glorious lustre.

It is manufactured in Holland, a country having a long history in velvet weaving. Velvet is suitable for interior decorations like curtains, drapes, pillows and bedspreads. Width: 120-150 cm Weight approx: 470 grams / meter.


Bed linen of 100% Egyptian cotton
When you hear the term 'Egyptian cotton' you know it's a guarantee of quality and luxury. Egyptian cotton is graded by 'thread count' – the higher the thread count the more luxurious and soft the finished product. At Alma House we offer a range of Egyptian cotton bedding from 200 to 600 thread count to ensure there is something to suit all budgets and preferences.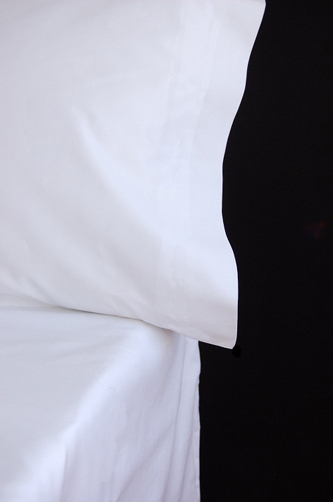 In general, cotton quality is graded on the length of the cotton fibre and the fabric's thread density. The longer the cotton fibres and the denser the fabric is woven, the better the quality.
The Egyptian cotton is long fibres which gives a cotton with durability and softness. The cotton has also gone through a process called combing that cleans away the shortest fibers and leave only the strongest and longest fibers
We have two types of cotton qualities.

Percale is a cotton weave that has more than 200 threads per sqauare centimeteres. It is a dense and soft fabric whith a crisp and cool feeling.


Satin has a soft feel and a silky lustre. The slightly shiny surface occurs through the way the cotton is woven.

Care If you take care of your bed linen properly, it can last for decades.
All our bed linen products have washing instruction labels but please
read the recommendations below.

Before use Please wash your bed linen before use. Do not mix wash with other fibres like acrylic or polycotton or
terry towels as this may result in pilling of the cotton fabric..

Washing Max 60 degrees. Use a mild detergent in a proper dose. Many of today's detergents and washing machines it's enough 40 degrees. Washing at lower temperatures is also better for the environment.
Wash the bed linen separately..
Note that monogram embroidery 

is colorfast

. It is insured for a temperature of 95 degrees.
Drying If you have the opportunity, let the bed linen to drip dry, this will result in a minimum creasing If this option is not available, tumble dry with cooling down period, take out of dryer shortly before cycle is completed, fold, lay flat and iron whilst fabric is still damp.