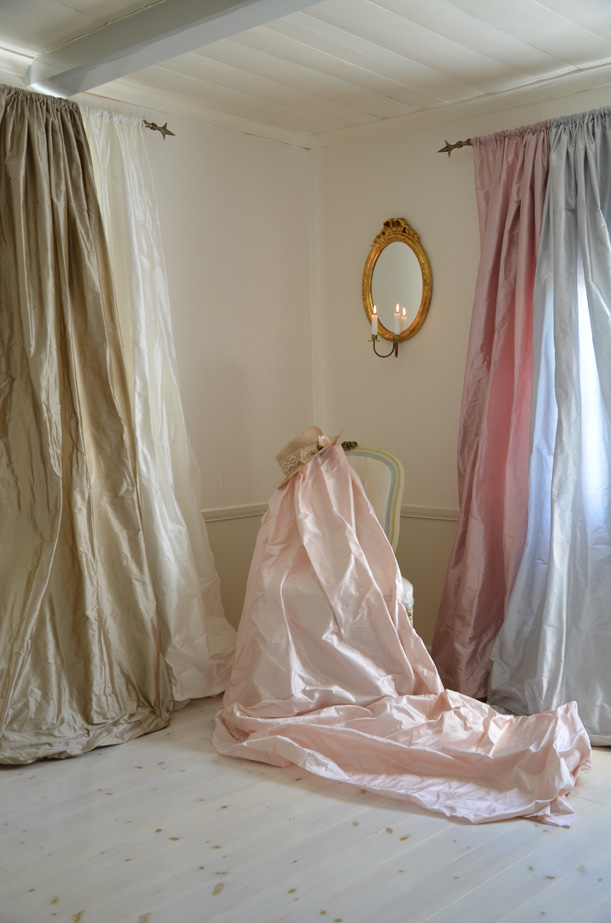 Made to measure curtains


At Alma House you can order made to measure curtains. At our studio work shop our highly qualified staff that will create curtains according to you requirements.

Made to measure curtains

You can choose from the following designs for your curtains: Prices below apply to lengths up to 3 meters.

Length more than 3 meters add € 10 kr per length.

1. Curtain without lining € 30 .

2. Curtain with a quality lining white/offwhite cotton fabric that drapes well and protects from sunlight and fading € 60

3. Interlined curtain has an additional layer of loosely woven cotton fabric that gives the curtain a more luxurious look. The outer lining protects from sunlight and fading. €100
LINING




We have two different cotton qualities for lining.





1) Ordinary quality cotton €7,90 / m


2) Extra luxurious cotton sateen € 14,9 / m



Other lining fabrics:





3) Interlining € 5 / m.


4) Black out lining € 2,7 / m

Various headings to choose from including 




1) Ordinary pleating tape so called Kirsch pleating





2) Pencil pleat tape.





3) Wire band with hobs (the hobs are threaded directly on the curtain rod, best suited to velvet curtains).



Price for all headings  €3 /.

We make curtains based on the meaurements you provide. It is your own responsibility that these measurements
 are correct. See measurement guide further below on this page.
If you want made to order curtains please contact us here Contact
Or through e-mail info@almahouse.se or by phone + 46 761 28 50 59.

Are you interested in our made to measure service we will prepare a quotation. Acceptance of the quotation you confirm by e-mail.

For customized products advance payment of whole amount through transfer to our bank account at Svenska Handelsbanken account details: xxxxxxxxxxxxxxx

Once you've made your advance you need to notify us via email to make it easier to track it in our incoming payment system.

Delivery time for made to measure products depends on the scope of the work. An exact delivery time is given in connection of the order. Normal delivery time is 1-3 weeks.

We can not offer right of withdrawal or replacement products for customized products.

Measurement guide
The secret behind a stylish curtains is to use generously with fabric.
Whether you  use our made to measure service or make the curtains yourself  
you can follow our guide to measurement below.


Placement of curtain rod





Curtain width

: To create an impression of a larger and wider window, 
let the curtain rod slide 7-15 cm apart from the window. 

Curtain drop/length


If you want the ceiling to appear higher, you can place the curtain rod 10 -15 cm above the window.
Preferably, the curtain rod (or curtain rail) should be in place before starting 
the measurement. Use a steel metric or folder rule for best results, 
take your time and always check all measurements twice. The two measures you
 need are the height and the width.



PICTURE




You measure from the bottom edge of the curtain rod and 
and down to you where you want curtain to end. 

If you have curtain rings, measure it from the bottom of the ring.



The height measures you from the bottom edge of the curtain rod down to the floor.
Measure several times, the floor may be uneven, note the shortest measure.
If you want a luxurious feel, you can choose a little longer curtains spreading 
down on the floor. The expression for this is "sweeping" curtains.




Above is an example of "sweeping" that is about 10 cm "too long" curtain.



Touching: add 1-2 cm Breaking: add 3-5 cm Sweeping: add 10 cm Puddling: add 15-30 cm.



Width


As principal rule one can say that the width of one curtain should be 
at least the same as the width of the curtain pole.
(Our fabrics have widths between 120-150 cm.)




How to calculate the fabric usage


For a  curtain length, 30 cm extra fabric is required for
the upper and lower hems.