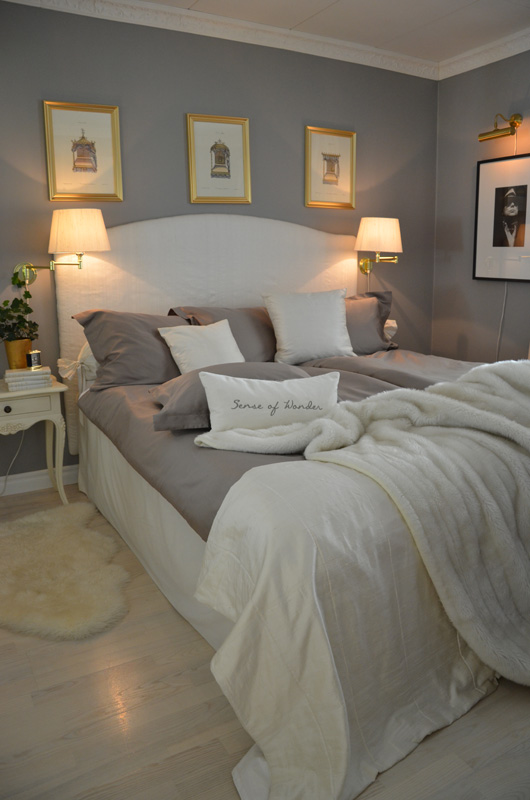 "Sense of wonder" / Simply the bed linen
The mole color is discreet and fits into most bedroom styles. 
The sheets are made in Italy, which has the best weaving technique in the world. 
With a thread count (tc) of 300/300 threads per sqm, 
this is a top quality sheet.



Bed linen with monogram embroidery, a perfect personal gift to those who already have everything, 
or why not to the bride and groom. Bed sheet and bed sky in champagne and aqua colored silk.



Classic white is always right. We have bed linen in both crisp cotton percale and soft and silky satin.



Silky dream bedroom Bedspread, curtains and head board all in champagne shantung silk (€ 44,50).
Curtains lined with aqua dupioni silk.(€29).


Bed linen "Only a dream / Simply the best" and the classic white Chaterine fit nicely in 
the Gustavian-inspired bedroom.



A summery bedroom. Duvet cover and pillowcase Aquarelle Romantique with winding romantic digital printed decor in 300 tc cotton percale,
in color Astral. Duvet cover €118.60 and pillow case € 29.


Monogram embroidery ( Renaissance font)  on bed linen Chaterine in gold color. Dramatic bed sky with black velvet curtain 
lined with matching gold dupion silk.



 A black and white palette is timeless and classic, with endless possibilities from subdued
 to statement-making. 
Louise likes monochrome ( even her Bichon frisé dog is black and white, a white curly fur and black eyes and nose) 
and her bedroom definitely has a wow effect. Offhite dupion siden with black velvet is
both soft and dramatic at the same time.





























Detail from Louise bedroom. Pillows in black and white 
Century velvet. Price per meter € 44,50.



Bed dressed in Cathrine and Blanche sheets. 
Canopy is made of champagne silk and silk organza Abeille ( discontinued)


 
Pearl monogram embrodery on the bed linen in royal blue color. Price € 200 2 letters.