IT´S ALL ABOUT THE JEWEL- TONED ACCENTS ON VELVET

Certainly, there is something special about the colors of gems; sapphire, ruby, emerald, amethyst, amber with more.

It is also true that these colors are the most trendy when it comes to interior design. We are talking about a trend that has grown even stronger over the past two years. It seems we want a cosy and colorful interior after years of neutrals.


I am doubtful that this trend will be embraced by the public in general. Colors like gray, white and black have been favoured for a long time.

Colorful environments add energy and well-being.

The gem color palette have especially been favoured on velvet. The emerald green velvet sofa has been popular for a while. And other vibrant colors to a certain degree on velvet curtains and cushions.


Two beautiful velvet sofas in emerald green.

At the top a Chesterfield and above a Howard. Unfortunately, the green wallpaper "kills" the overall impression.


Nice curtain set in emerald green velvet.
It seems to be a professional who has designed the room
Not many among us would choose green curtains when the rest of the decor is in blue.
But it is absolutley the right move. The green curtains stands out and dominate the room. Well done.




The sapphire is my personal favourite. Transferred into fabrics it can look like this.




Beautiful sapphire blue velvet curtains.


This sofa is Ikea's spacious Stockholm in dark blue velvet
for a price of about €1460.



A shimmering sapphire blue velvet curtain has been squeezed in and makes a statement in this setting.

Next comes some ruby goodies.




Red velvet curtains adds a touch of warmth in this resturant.


A majestic bedroom with red velvet curtains.
It works very well here but, in my opinion, too much red can be a bit tacky.




Another stately room framed by ruby ​​red velvet curtains.





The amethyst color is close to lavender.




Wonderful dusty purple color. Alma House Velvet superior velvet in
100% cotton you can find here:  amethyst superior velvet
Amethyst color woeks very well together with all shades of grey.





Purple can be a difficult color to match especially purple sofa 
but I would not mind this nice one.



Amber has a warm tan color close to ochre yellow
 It works very well on velvet. Just look here!





Lovely splash of color against a grey wall.


Velvet curtains in a saturated yellow shade are perfectly
 matched with black / white striped. So nice!



This a sapphire in a slightly burnt apricot color, very rare gem and
 precious! This is how the color can be trannsferred on velvet fabric.



Great velvet curtain framed by beutiful windows.




Velvet cushions in this soft apricot shade.



Just love this color scheme!
If you were looking for a best quality velvet in these yummy gem colors
have a look in our webshop

 Here you will find all thegem colors above. 
Velvet Superior is a high-grade cotton with a heavy drop. 
and a sustainable choice for curtains. 
You find it here: VELVET SUPERIOR






A silkdealers dilemma 



As a purchasing manager, I collect a lot of inspirational 
imagesfrom different image banks, such as Pinterest, Instagram etc.
The reason for this is that it will give influences to future purchases 
of new silk colors. It is not easy to foresee the colors our 
customers will like. Our aim is to offer both classic gentle and 
trendy colors.
 The challenge lies in finding a color tone that lies in the time but
 that one can live with for a long time. Silk curtains can sees like an 
investment and are hardly something that you change every year, but
should be able to function at least for 10 years.
My own silk curtains have been around for almost 20 years by now.
 I can live with a fruther 10 years, no problem
Now I going to do an odyssey among the latest beautiful pictures with side curtains I have co
silk curtains I have come across.



 Choosing white or offwhite silk curtains can never go wrong.




Cream colored silk curtains gives extra elegance to the
 beautiful mirrored chest.



Bedroom i neatural tones with silk curtains in greige ( grey-beige) color.





An elegant office space in the living room. The elegance is fortified by the silk curtains i light grey.




In order not to conceal a beautiful view the light grey silk curtains have been tightly folded to one side. If one had opted for not having curtains. it would have been boring and empty. Curtains soften and reduce echo.
Cool grey shantung silk



Greige silk curtains in a traditional setting. Greige shantung silk



Nice curtain arrangement in light pink. Powder rose

Light pink has been the trend color and is still going strong both in interior design but also in fashion. But new colors are beginning to appear on the trend scene.



One of them is a shade called blue Hydrangea
and is a strong blue color. But when we at Alma House chose the nuance we chose toned down the shade significantly a brighter and with a dusty feel. We call it dusty blue. I adore that color!


Dusty blue


Here comes a couple of pics with wonderfully blue silk curtains.














Another color that is underway is coral which is
said to be the new pink. You have probably seen
it in clothing stores. For me, it is a 80's fashion color
and it has never been a color I embraced.
But of course, we need to keep up with trends andtrying to find a shade that is more subdued and should not go out of style the next ten years. Here it is; we call it Blush.



Blush shantung silk


Some pictures of similiar color.



Personal gifts

One of the services we provide at Alma House is personal embroidered monograms on our bed linen.

Monograms on sheets are not so common nowadays. But it is a perfect gift for anniversaries, as a Christmas present and perhaps most of all for wedding gifts.

Over the years, we have embroidered monograms to countless bridal couples. It is fortunate that future brides of today don´t need to collect items for a bridal coffin.

It is an old tradition. About 100 years ago and on to the fifties it was common for women to mark their bed linen with monograms for the wedding. According to the custom of the time, there would be enough sets of labeled bed linen in the bridal coffin so that you could manage between autumn and the spring washing.

In the past, when washing machines were a utopia, the village's residents gathered around the nearest water, a river or a pond, a few times a year for common washes and it was then practical having a monogram labels to recognize its own linen.
Beautiful old fashioned French monograms. White agianst white appear better than you might think.


The tradition of labeling bedding goes further back and it and originates in France.
It was Karl the Great who was the first to make use of monograms. Like many others in the Middle Ages, this king was not literate and therefore used his initials to sign documents. In this way, the monogram came to mean that
a letter should symbolize a whole name.
These are the first known monogram.
It was Karl the Great´s or Charlesmagne (in french)
who lived between 742 and 814.


Labeling bedlinen with monograms became popular in Sweden in the 19th century. The letters that were embroidered were usually neatly and beautiful in white but also cross-stitch embroidery in red was common. It is not difficult to imagine that it was difficult to embroider petty stitches in poor lighting that eventually turned into small pieces of art.


Monogram (left) old fashioned hand embroidered. (right) Contemporary that is embroidered on a machine.


Today it is completely different. The fantastic technology development has produced machines that embroider super fast and with perfect stitches. What used to mean weeks of laborious work with bleeding fingertips and red eyes for women is over. Today it only takes a few minutes with an embroidery machine.


The embroidery Renaissance font is the most popular with Alma House.




Also the Renaissance embroidery.





A more romantic style, the embroidery style we call Romance.




This style we call pearl monogram. Especially suitable as a wedding gift.

In addition to our own monogram styles, we also embroider, on request, family crests, personal signatures or customers own design monograms.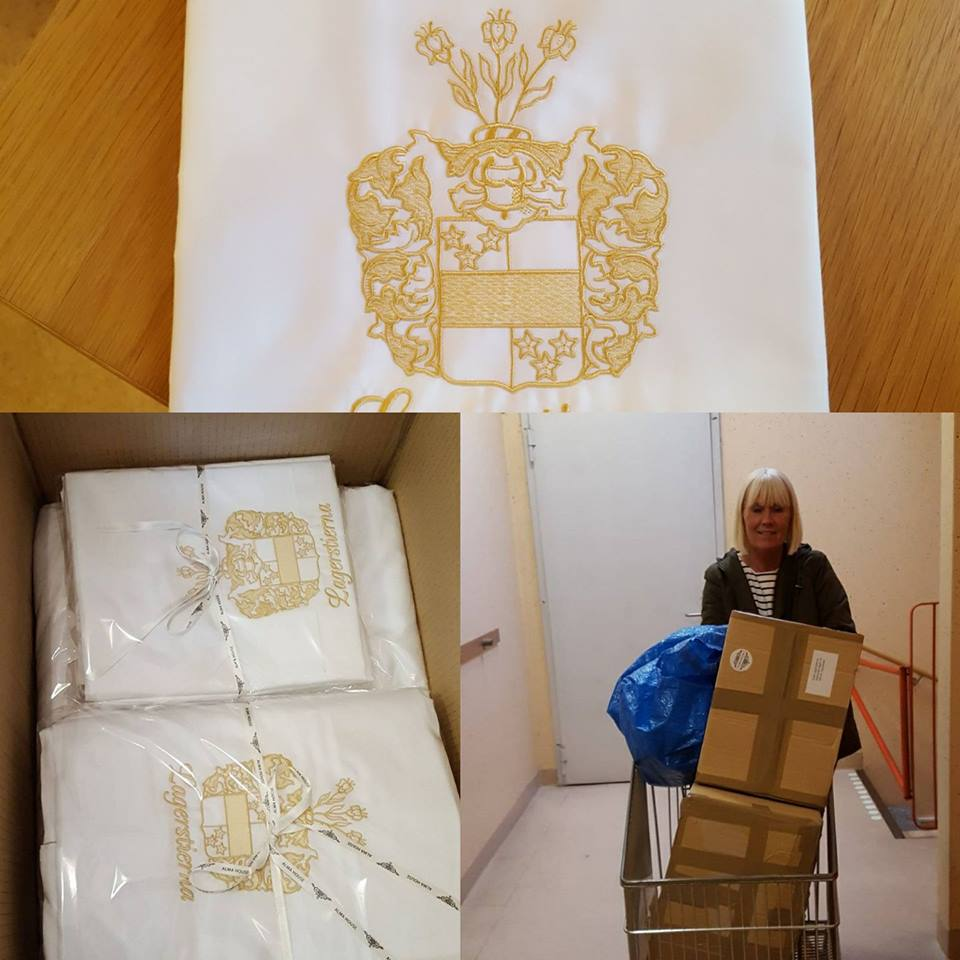 Delivery of bedlinen with a beautiful family crest embroidery.


Here come some pictures of other monogram styles for inspiration.


Silk elegance in the winter darkness

It feels like it will be a long, snowy and cold winter. In our country side, it has been snowing constantly for three days. It is a pain walking my dog in the morning I have to dress in thermal trousers and big and thick down parkas which limits my movements And I have trouble to keeping up with my energetic dog's fast-pinning little legs.


With a large part of winter still left it feels slightly heavy. In this post I will try to cheer up both myself and hopefully you with a little glamor and eye delight with luxurious silk curtains. Needless to say that I am a little bit fanatical when it comes to the silk drapes. Ok, her we go!




Muted pink curtains matched with a bed with harmonizing shades.



Offwhite silk curtans can never go wrong.



White silk curtains dominates this living room. Works well.



Ligth grey sweeping curtains gives almost a dramatic feeling to this dining room.



Lovely home office surrounded with offwhite silk drapes.



Grey and champagne silk curtains together. The room gets
an calm and soothing atmosphere.