IT´S ALL ABOUT THE JEWEL- TONED ACCENTS ON VELVET

Certainly, there is something special about the colors of gems; sapphire, ruby, emerald, amethyst, amber with more.

It is also true that these colors are the most trendy when it comes to interior design. We are talking about a trend that has grown even stronger over the past two years. It seems we want a cosy and colorful interior after years of neutrals.


I am doubtful that this trend will be embraced by the public in general. Colors like gray, white and black have been favoured for a long time.

Colorful environments add energy and well-being.

The gem color palette have especially been favoured on velvet. The emerald green velvet sofa has been popular for a while. And other vibrant colors to a certain degree on velvet curtains and cushions.


Two beautiful velvet sofas in emerald green.

At the top a Chesterfield and above a Howard. Unfortunately, the green wallpaper "kills" the overall impression.


Nice curtain set in emerald green velvet.
It seems to be a professional who has designed the room
Not many among us would choose green curtains when the rest of the decor is in blue.
But it is absolutley the right move. The green curtains stands out and dominate the room. Well done.




The sapphire is my personal favourite. Transferred into fabrics it can look like this.




Beautiful sapphire blue velvet curtains.


This sofa is Ikea's spacious Stockholm in dark blue velvet
for a price of about €1460.



A shimmering sapphire blue velvet curtain has been squeezed in and makes a statement in this setting.

Next comes some ruby goodies.




Red velvet curtains adds a touch of warmth in this resturant.


A majestic bedroom with red velvet curtains.
It works very well here but, in my opinion, too much red can be a bit tacky.



Another stately room framed by ruby ​​red velvet curtains.


The amethyst color is close to lavender.




Wonderful dusty purple color. Alma House Velvet superior velvet in
100% cotton you can find here: amethyst superior velvet Amethyst color woeks very well together with all shades of grey.



Purple can be a difficult color to match especially purple sofa
but I would not mind this nice one.


Amber has a warm tan color close to ochre yellow
It works very well on velvet. Just look here!





Lovely splash of color against a grey wall.


Velvet curtains in a saturated yellow shade are perfectly
matched with black / white striped. So nice!


This a sapphire in a slightly burnt apricot color, very rare gem and
precious! This is how the color can be trannsferred on velvet fabric.




Great velvet curtain framed by beutiful windows.





Velvet cushions in this soft apricot shade.




Just love this color scheme!
If you were looking for a best quality velvet in these yummy gem colors
have a look in our webshop

Here you will find all thegem colors above.
Velvet Superior is a high-grade cotton with a heavy drop.
and a sustainable choice for curtains.
You find it here: VELVET SUPERIOR




A silkdealers dilemma

As a purchasing manager, I collect a lot of inspirational
imagesfrom different image banks, such as Pinterest, Instagram etc.
The reason for this is that it will give influences to future purchases
of new silk colors. It is not easy to foresee the colors our
customers will like. Our aim is to offer both classic gentle and
trendy colors.
The challenge lies in finding a color tone that lies in the time but
that one can live with for a long time. Silk curtains can sees like an
investment and are hardly something that you change every year, but
should be able to function at least for 10 years.
My own silk curtains have been around for almost 20 years by now.
I can live with a fruther 10 years, no problem Now I going to do an odyssey among the latest beautiful pictures with side curtains I have co
silk curtains I have come across.


Choosing white or offwhite silk curtains can never go wrong.


Cream colored silk curtains gives extra elegance to the
beautiful mirrored chest.




Bedroom i neatural tones with silk curtains in greige ( grey-beige) color.





An elegant office space in the living room. The elegance is fortified by the silk curtains i light grey.




In order not to conceal a beautiful view the light grey silk curtains have been tightly folded to one side. If one had opted for not having curtains. it would have been boring and empty. Curtains soften and reduce echo.
Cool grey shantung silk



Greige silk curtains in a traditional setting. Greige shantung silk



Nice curtain arrangement in light pink. Powder rose

Light pink has been the trend color and is still going strong both in interior design but also in fashion. But new colors are beginning to appear on the trend scene.



One of them is a shade called blue Hydrangea
and is a strong blue color. But when we at Alma House chose the nuance we chose toned down the shade significantly a brighter and with a dusty feel. We call it dusty blue. I adore that color!


Dusty blue


Here comes a couple of pics with wonderfully blue silk curtains.














Another color that is underway is coral which is
said to be the new pink. You have probably seen
it in clothing stores. For me, it is a 80's fashion color
and it has never been a color I embraced.
But of course, we need to keep up with trends andtrying to find a shade that is more subdued and should not go out of style the next ten years. Here it is; we call it Blush.



Blush shantung silk


Some pictures of similiar colors.



Personal gifts

One of the services we provide at Alma House is personal embroidered monograms on our bed linen.

Monograms on sheets are not so common nowadays. But it is a perfect gift for anniversaries, as a Christmas present and perhaps most of all for wedding gifts.

Over the years, we have embroidered monograms to countless bridal couples. It is fortunate that future brides of today don´t need to collect items for a bridal coffin.

It is an old tradition. About 100 years ago and on to the fifties it was common for women to mark their bed linen with monograms for the wedding. According to the custom of the time, there would be enough sets of labeled bed linen in the bridal coffin so that you could manage between autumn and the spring washing.

In the past, when washing machines were a utopia, the village's residents gathered around the nearest water, a river or a pond, a few times a year for common washes and it was then practical having a monogram labels to recognize its own linen.
Beautiful old fashioned French monograms. White agianst white appear better than you might think.


The tradition of labeling bedding goes further back and it and originates in France.
It was Karl the Great who was the first to make use of monograms. Like many others in the Middle Ages, this king was not literate and therefore used his initials to sign documents. In this way, the monogram came to mean that
a letter should symbolize a whole name.
These are the first known monogram.
It was Karl the Great´s or Charlesmagne (in french)
who lived between 742 and 814.


Labeling bedlinen with monograms became popular in Sweden in the 19th century. The letters that were embroidered were usually neatly and beautiful in white but also cross-stitch embroidery in red was common. It is not difficult to imagine that it was difficult to embroider petty stitches in poor lighting that eventually turned into small pieces of art.


Monogram (left) old fashioned hand embroidered. (right) Contemporary that is embroidered on a machine.


Today it is completely different. The fantastic technology development has produced machines that embroider super fast and with perfect stitches. What used to mean weeks of laborious work with bleeding fingertips and red eyes for women is over. Today it only takes a few minutes with an embroidery machine.


The embroidery Renaissance font is the most popular with Alma House.




Also the Renaissance embroidery.





A more romantic style, the embroidery style we call Romance.




This style we call pearl monogram. Especially suitable as a wedding gift.

In addition to our own monogram styles, we also embroider, on request, family crests, personal signatures or customers own design monograms.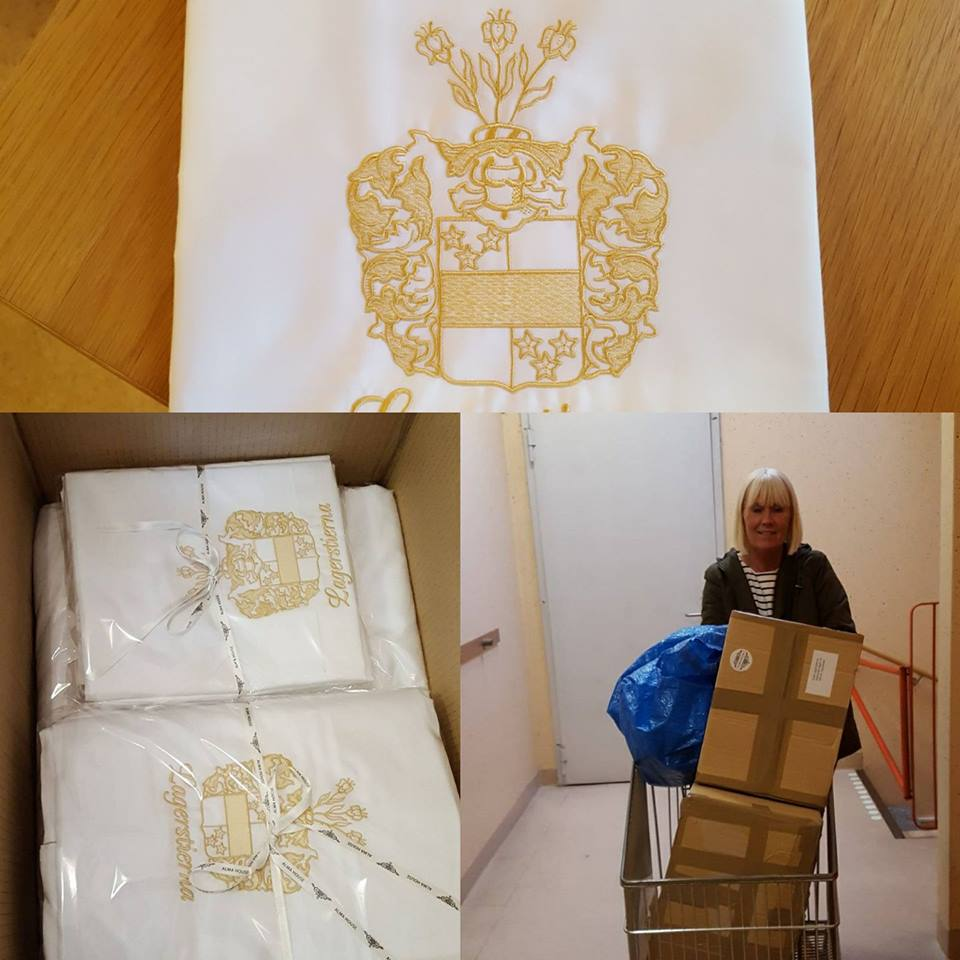 Delivery of bedlinen with a beautiful family crest embroidery.


Here come some pictures of other monogram styles for inspiration.


Silk elegance in the winter darkness

It feels like it will be a long, snowy and cold winter. It has been snowing constantly for three days now. It is a pain walking my dog in the morning I have to dress in thermal trousers and big and thick down parkas which limits my movements And I have trouble to keeping up with my energetic dog's fast-pinning little legs.


With a large part of winter still left it feels slightly heavy. In this post I will try to cheer up both myself and hopefully you with a little glamor and eye delight with luxurious silk curtains. Needless to say that I am a little bit fanatical when it comes to the silk drapes. Ok, her we go!




Muted pink curtains matched with a bed with harmonizing shades.



Offwhite silk curtans can never go wrong.



White silk curtains dominates this living room. Works well.



Ligth grey sweeping curtains gives almost a dramatic feeling to this dining room.



Lovely home office surrounded with offwhite silk drapes.



Grey and champagne silk curtains together. The room gets
a calm and soothing atmosphere.


Mint greens colored silk curtains are justbeuatiful.


Light grey silk curtains as a drapery in a doorway.




Neutral bedroom with different shades grey,beige and offwhite.
Silk curtains in a grey/beige (greige) shade.

Lovely blue shade silk curtains.




Another silk drapery in a doorway on offwhite. The excess fabric gives a luxuary feel.



It is sometimes difficult to reproduce the nice lustre in silk curtains.
It is the light that makes the fabric sparkle. When taking pictures of
silk curtains in window the light comes from behind.
For the above picture we decided let the natural light fall on the silk
instead to make it shine.

Finally, to mitigate my harsh words about winter intitally, I also want
say that winter has its advantages. The winter landscape feels
almost magical especially the days it is sunny, then it is really
enjoyable. I wish you a nice winter. Hope you don't feel like this:
Fabric for a king and for a cozy sofa


Velvet has a solid history and already in the 13th century
the Italians began to weave the exclusive fabric. Of course it became
exclusive and expensive and it was only the nobles who could afford it.
Velvet was used eg for royal crowns. And of course för clothes
as well as shoes.






Recently, velvet has had a revival in fashion.



Velvet is still hot in fashion but even more so in interior design. Recently, we have seen that velvet has become increasingly popular in the interior design world. Maybe it's a reaction to the troubled world. We want it cozy, warm and embracing. For this purpose, velvet is the ultimate interior fabric. As a furnishing fabric, one finds it on couches, headboards and curtains.

Here are som lovely sofas in different styles and colors.


A velvet sofa is a good investment. It never goes out of style.

Now I move on to headboards.




So fresch with white bedlinen and the headboard in beige velvet. All from the british White company.

I continue with velvet curtains.




Light blue velvet curtains.




Heavy greige velvet curtains ( grey/beige) with nice puddling on the floor.




Mole brown velvet curtains keep the ligths out at night. You find it here:
Mole




Light green velvet drapery with nice luster. At Alma House we call the color mediterranean green. You can find it here:Mediterranean green





Me ( with my butt in the air) arranging velvet fabrics for the right puddling.
You find our collection of velvet fabrics here. Alma House velvet collection
-------------------------------------------------------------------------------

Search for silk curtains

The most commonly used searchword for Alma House is silk curtains.
It means that most people looking for silk curtains end up
at Alma House or at our blog Interiorladies.se. It is time
for a an odyssé among lovely pics of silk curtains.

Here we go!




Grey silk curtains framing an inviting daybed.


Why not use the silk curtains as drapes? Personally, I think
they should hang in a window. But are you more crazy in silk than
I am so why not? The picture above have greige (gray beige) curtains.
It looks great when the length has been taken so much that there
is a lot of fluff on the floor also called puddling.
If you like the color you can find it in our shop.

Yellow is not the most common curtain color, but see what
It looks good it in the right context.
It works nicely in an interior where blue is the base.


Softer pastels area more natural choice. Gray silk curtains in the windows and a cloth in white dupion. I would not recommend to have a silk cloth on a dining table because silk requires dry cleaning.


Light lilac is one of my favorite colors. The lilac silk curtain blends well into the unusual but nice color mix. The beautiful wallpaper is from de Gournay.




And then another mlld pastel, light pink. Pink is traditionally a female color, but the old truth is not valid any longer. If you want to glam your silk curtain, you can put som decorative pins that looks like brooches.


Finally the most neutral color of all, offwhite, but always equally beautiful.
Take a look in Alma House webshop for more inspiration.

Alma House silk fabrics


A white Christmas, probably not....



The possibility to have a white Christmas this year seems far away.
In the absence of snow I intend to show white interior pictures. There are white interior styles where you find warmth and elegance actually.
Three living rooms of different character. Notice the beautiful silk curtains on the middle image
in light beige tone.

BEDROOMS
Many people refrain from using white bedlinen because dirt becomes
more visible.

I think the other way around. I want the dirt to be visable since then I
it is time for washing.Therefore I only use white bedlinen.
Another advantage is that white bedlinencan be bleached.
it fits into all kinds of environments just look here .....

Above all, white bedlinen is neutral and fits all kinds of interior styles.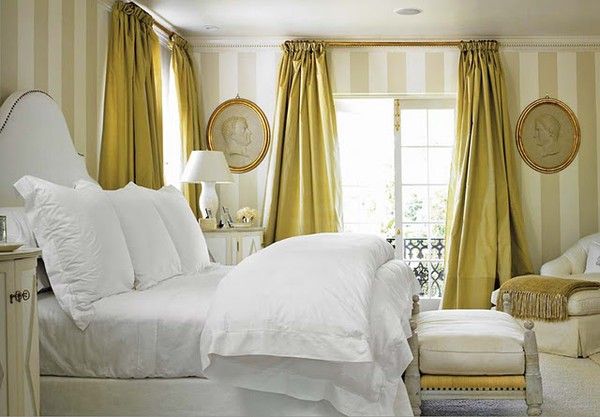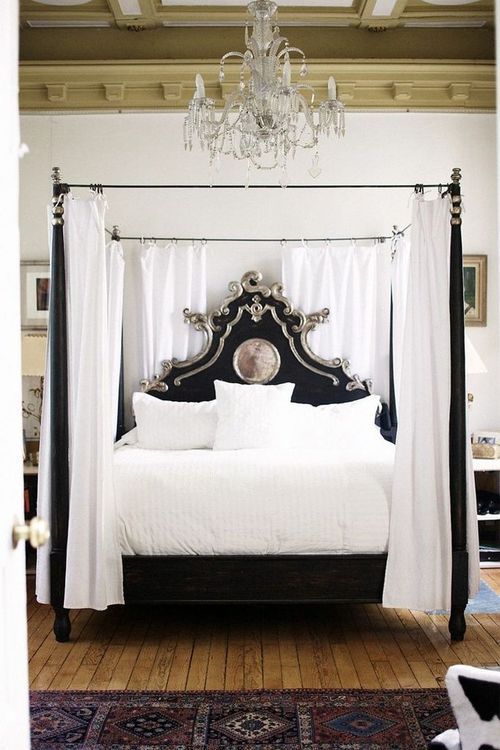 What a cool bed, wouldn't hesitate if I found one like that. Here it is unthinkable with anything other than white bedding.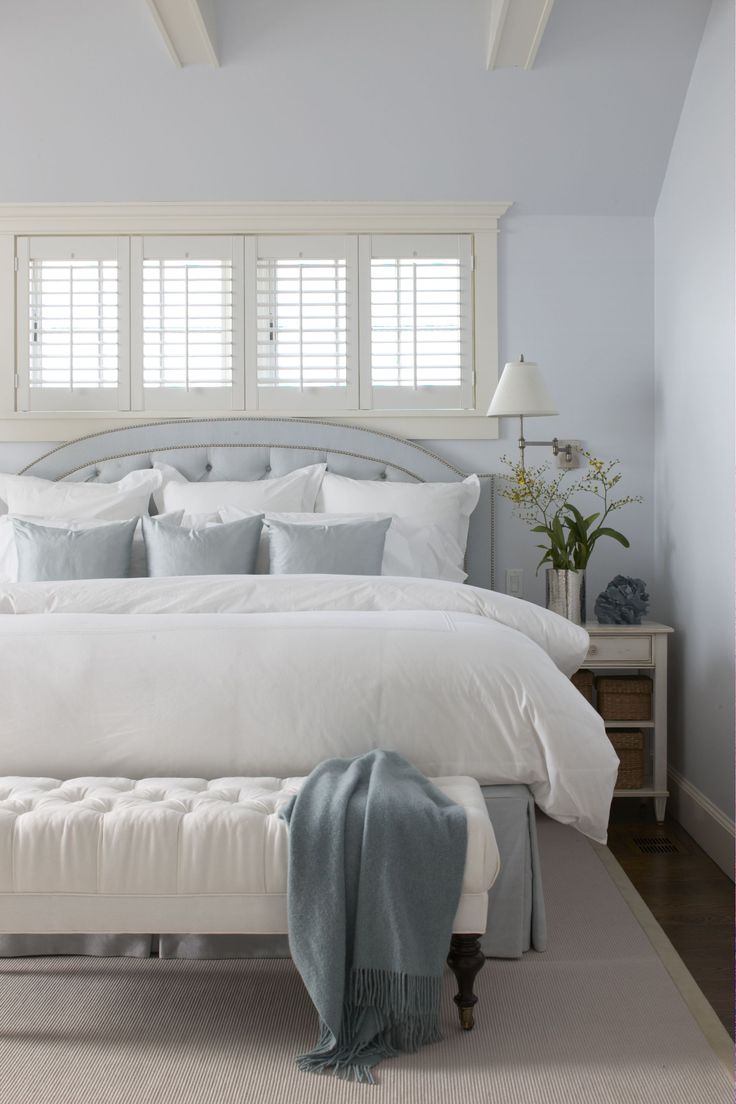 Wise words: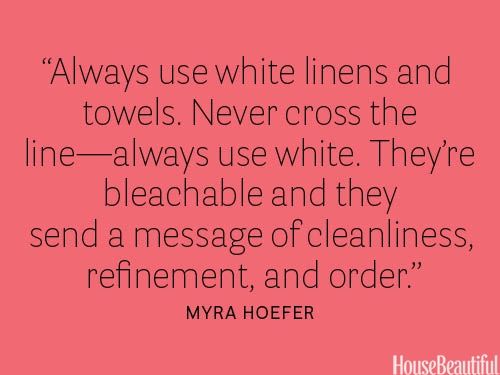 E-mail from one of our customer


We received such a nice email from a customer that made us so happy.
It is Maja who has sewn a party dress that she would wear for a
wedding. She chose our yellow-striped shantung silk. 
It became a stunning retro-inspired dress.
A beautiful girl and lovely dress. we can



Cool bedlinen for a warm summer- Egyptian cotton

Many of our customers testifies how extra comfortable
our sheets are during the summer.
The Egyptian cotton is cool and has a crunchiness that is appreciated when it is high summer heat. One of our customers expressed it like this:
" I have noticed the difference and understand why it doesn't work with xxxx * sheets in summer heat" (* xxxx stands for a well known discount store that we refrain from naming).


A bed made with Alma House popular bedlinen Chaterine and our 
extra luxurious satin bedlinen "Only a dream" in the color sand.


SPRING IS HERE!

In the springtime many people like to change curtains. 
Our suggestions is of course to invest in silk curtains.
Then you do not need to change curtains for a decade, at least. 
I bought my first silk curtains 20 years ago and I have no intention to
replace them, at all. They are still beutiful and never go out style.
Here comes some insprirational pics of silk curtains in different colors.



Sand colored and aqua dupioni silk, both colors are available
our shop.


Steel blue silk curtains, soft and sophisticated.



Be brave and go for a vibrant orange color. Bold colors give the room 
a warmth glow.



White silk works perfectly for both curtains and ( wedding) dresses.


Pink and gregie silk drapes. Both available in our shiop.



Pink and greige silk also makes wonderful party dresses.



Golden silk curtains matched with same fabric as in pillowcase.



Finally, a beautiful bedroom with a neat draped curtain. It is both decorative and practical.


SILK FOREVER!
Now that the light is finally back, this is the most busy time for Alma House. Although our customers place orders all year round but in it is spring becomes a boost. Many people want to change curtains in the spring, obviously. We were happy when one of our customers who blogs at Gods & Gårdar ( a high profiled interior magazine) blogged about the silk curtains she bought from us.